Pattern Matching and Automatic Photo-Identification of Individual Amphibians
AmphIdent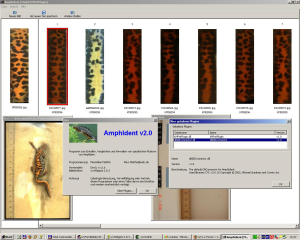 The software AmphIdent allows to automate the photo-identifi­ca­tion process of distinct amphi­bian indivi­duals in capture-recapture studies. Hereby, specific patterns on digital photographs are analyzed and a pattern recognition and pattern matching process reveals recaptured individuals. Captured patterns are automatically managed in a database. AmphIdent offers a decent recognition rate and a simple operation. Currently, the following species are supported:
---
News
April 29th, 2021 - Build 327
add better error message when an cannot be loaded
Dec 7th, 2020 - Build 326
fix initialization bug in newest Windows 10
Aug 13th, 2018 - Build 310
fix bug when picture for newts was too big
provide more useful messages when using the MS Access database and the current picture is not processable by the database
ensure TextDBConnector does not corrupt an MS Access database
May 31st, 2018 - Build 304
fix encoding for filenames with non-ASCII characters
Mar. 2nd, 2018 - Build 301
fix crash when starting with a new empty database
Jan. 14th, 2018 - Build 299
fix bug with German umlauts in the filenames
Nov. 9th 2017 - Build 297
AmphIdent now stores the contour points used for pattern extraction within the pattern files
The contour points for pattern extraction can be shown in the database view
AmphIdent now allows to automatically delete entries from the external database, when a pattern is deleted from the internal database
Oct. 29th 2017 - Build 292
Deleting an animal from the internal database allows to also automatically remove it from the external database.
Sep. 26th 2017 - Build 290
Improve pattern extraction for yellow-bellied toads
Aug. 27th 2017 - Build 283
Add option to switch off the exclusive lock of the pattern database.
Aug. 11th 2017 - Build 281
Center image processing dialog on screen
May 1st 2017 - Build 277
Automatically create subdirectories for internal and external database
Do not allow databases to be stored with C:/Program files
Apr. 27th 2017 - Build 276
Fix crash in processing Salamanders
Fix mousewheel usage in Windows 10
Mar. 13th 2017 - Build 274
Fix crash in processing of Bombina bombina
Allow to keep the gender empty from AddGender.dll
Correct documentation of AddGender.dll
Feb. 17th 2017 - Build 272
Update the manuals
More informative error message when an original image cannot be found
Jan. 1st 2017 - Build 269
Fix a bug that inhibited the Slider to load arbitrary profiles
Fix a bug with non-conforming field names for MS-Access database
Aug. 03 2016 - Build 263
Include rudimentary Python integration for extending AmphIdent
Fix a crash in image processing for newts, when the image had a non-suitable background.
Jul. 25 2016 - New Homepage Design
Provide a site accessible by mobile devices
Simplify navigation
Jul. 19 2016 - Homepage Improvements
Add page about individual photo-identification of salamanders
Add links to supported species on the main page
May 5 2016 - Build 245
new plugin: AddLocation allows to store the time and place of the animal capture.
Feb. 18 2016 - Build 244
fixes a crash when matching patterns by the Salamandra plugin
Oct. 24 2015 - Build 236
Prevents common problem in pattern extraction for toads
Improves detection of red and black pattern areas for toads
Oct. 12 2015 - Build 232
Improvemes the user interface

File name of each pattern is shown in single view
Plugin AddLength accepts . and , as decimal separators
File name of processed image is shown in analysis plugin window
Simpler control during toad pattern extraction
Jan. 20 2015 - Build 231
Improve robustness of MS Access database connector
Nov. 04 2014 - Build 230
This build adds a configuration wizard which offers quick and easy modification of AmphIdent config files. The configuration wizard can be started from C:/Program Files (x86)/AmphIdent/wizard.exe. Usage of the program is straight forward.
Oct. 31 2014 - Build 227
Improves user interface for pattern extraction of newts and toads
Oct. 11 2014 - Build 194
Adds rudimentary check if MS Access database has correct file and database format
Mar. 23 2014 - Build 181
First version of a species plugin for identifying lizards Lacerta agilis
Feb. 15 2014 - Build 155
Improves check if two AmphIdent instances access the same database
Jan. 05 2014 - Build 150
Add final version of species plugin that identifies salamandra salamandra